What we see!

Our treatment approach begins with an extensive dry eye evaluation utilizing the Oculus Keratograph 5M. This sophisticated technology will identify the underlying cause and allow us to customize a treatment protocol based on your specific needs.
The 5M obtains measurements for the water, oil, and mucus layers of the tear film, as well as any offenders that can be disrupting the tear film functionality. The data collected along with a thorough evaluation by our dry eye specialist will be analyzed and used to create a personalized treatment approach. Throughout your journey to better eye health the doctor will re-evaluate with the 5M imaging to be sure progress is being made.
Types of dry eye
Aqueous Deficient (Water) – Also known as Keratoconjunctivis Sicca. When your lacrimal gland does not make enough tears. Common reasons include: medical conditions (diabetes, RA, Sjogren's and thyroid disorders) and medications.
Lipid Deficient (Oil) – Also known as Meibomian Gland Deficiency (MGD). When your tears evaporate too quickly. Common reasons include: inflammation of the eyelid (blepharitis) or rosacea.
Blink Inadequacy – Partial or infrequent blinking. Common reasons include: environmental offenders (smoke, wind, dry air), eyelid structure that doesn't allow for proper blinking mechanics, or prolonged screen time.
Mixed – a combination different causations
Take our Dry Eye Quiz to receive more information.
Here are a few examples of the measurements collected (and why it's important):
NIKBUT: Non-invasive tear break up time. How long are your tears lasting before they start to evaporate? We need stable and consistent tears to create a happy eye.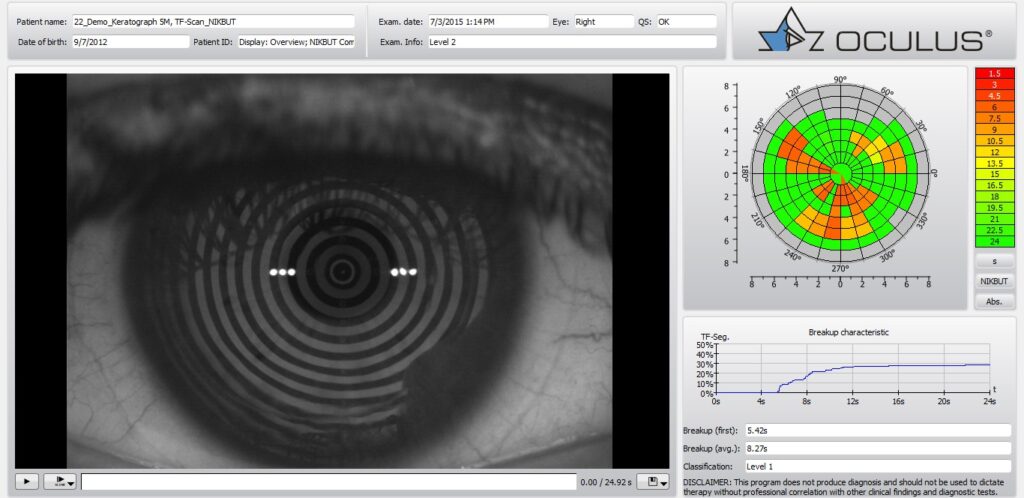 Meibography: Imaging the meibomian glands inside of the eyelids. Meibomian glands line the lid and secrete the oil portion of your tear film. Meibomian glands can become chronically clogged, causing changes and eventually becoming unable to secrete oil. Without your glands adding oil to your tears, the tear film evaporates too quickly.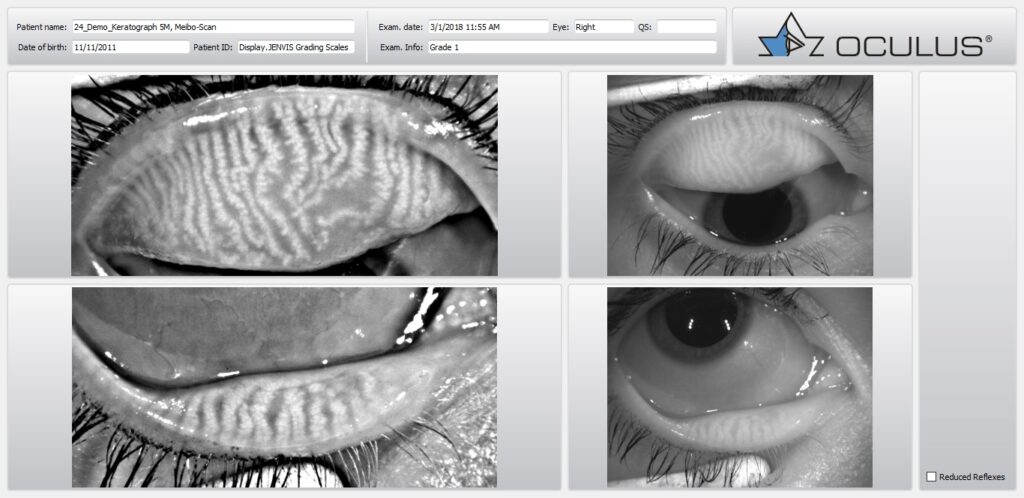 Stains: Different stains are utilized in clinic to not only help visualize the tear film but also determine if the cornea (clear dome) or whites of your eyes are actively irritated from lack of a nutrient tear.