Doctors & Staff
Meet the experienced and friendly doctor and staff who make Monocle Eye Care a proud provider of vision care products and services in Cornelius.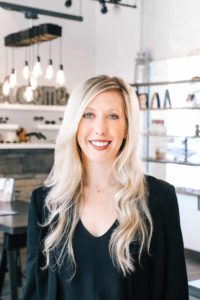 Brittany Flaherty, O.D.
Dr. Brittany Flaherty is excited to bring exceptional eye care and eyewear trends to the town of Cornelius. She is a native of Scranton, PA and moved to the Lake Norman area in 2014. Dr. Flaherty received her undergraduate degree in biomedical engineering and certificate of humanitarian engineering with highest honors from Pennsylvania State University. While at Penn State, she traveled to Nyeri, Kenya- a remote village east of Nairobi- to connect local people, who were unable to afford medical care, to doctors in the larger, more developed cities. Her role was to design medical equipment that would be sourced locally and used to collect patient health information.
Dr. Flaherty attended Pennsylvania College of Optometry to earn her Doctorate (OD). There she continued her humanitarian work by providing eyecare to people in need, both in and out of the country. After graduating from optometry school, she moved to North Carolina where she completed a residency at the Salisbury VA Hospital. This allowed her to focus on ocular disease and has furthered Dr. Flaherty's ability to diagnosis, treat and co-manage eye disease as it relates to the rest of the body.
When not at Monocle Eye Care, Dr. Flaherty works 1 day a week at Metrolina Association for the Blind (MAB), a local nonprofit organization in Charlotte. At MAB she works with patients who have low vision as a result of congenital or acquired eye diseases. These appointments focus on educating patients about their vision loss and developing strategies to utilize specialized devices to meet goals specific to their needs.
Dr. Flaherty moved to the area with her fiancé, Cory. They have been together since they were 15 years old. They enjoy spending time with their rescue dog, Larry. His favorite activity, and theirs, is laying on the couch and watching Netflix. She also loves when the weather is hot and doesn't miss shoveling or scraping ice since moving to the south!
What is the best part of her job? Educating people about their eyes! I love utilizing technology to allow patients to be a part of the exam and understand that glasses and contacts are just a small portion of their appointment. I love hearing – "Hey, I didn't know the eye can tell you all of that!" It sure can 🤓
---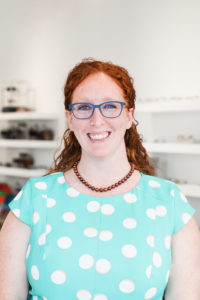 Leisa Newman, Office Manager and Licensed Optician.
Leisa started her optical career in 2001. She is licensed by the North Carolina Board of Opticians, as well as the Virginia Board of Opticians. She is certified by the National Contact Lens Examiners (NCLE) and the American Board of Opticians (ABO), both national certifications. She recently completed additional certifications with Euclid Emerald and Paragon Vision Sciences, each for Corneal Reshaping Therapies.
While living in Virginia, Leisa partnered with local elementary schools in her county to perform yearly vision screenings for all Kindergarten, 3rd, 5th,7th, and 11th graders and has worked to raise money for Prevent Blindness America.
A native of Asheville, she feels at home in the Cornelius community. Since starting at Monocle Eye Care she has joined the Lake Norman Small Business Network, a group of over 4,000 local professionals.
In her time away from the office she likes to relax with her husband, two sons, and very stubborn dog. Her favorite pastimes include drinking coffee and watching (or reading) mysteries, listening to music and volunteering at her son's school. Leisa has co-chaired the Levine's Children's Hospital Parent Advisory Board for Pediatric Cystic Fibrosis, and was part of Atrium's Big Breath Benefit for Pediatric Pulmonology. She currently mentors new parents that have children recently diagnosed with with cystic fibrosis.
What is the best part of her job?: Helping others! Sight is something that a lot of people take for granted. But there are so many people that struggle with everyday tasks because they can't see, especially kids that don't realize they could have better vision. Being able to fit a child in glasses or contacts and watch their face as the world comes into focus is the absolute best!
---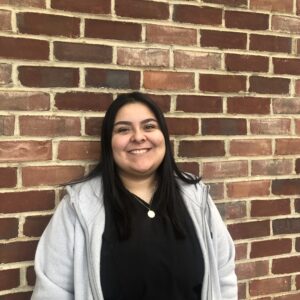 Allison, Optical Manager
Starting off as a tech and now becoming the Optical Manager, I've learned so much in my time at Monocle. My current goals are ABO and NCLE certifications next year. I'm excited to see where this career path takes me!
---
Bridget, Technician
I moved from Pittsburgh to Charlotte in 2015 with my husband and daughter, Delia! We have since added to our family when we rescued our Siberian Huskies, Elsa and Loki. We found Dr. Flaherty in 2019, and have been coming to her for our needs since. When I'm not at Monocle, I can be found volunteering at our local school as PTO Treasurer, or at our church coordinating Walking with Purpose.
---
Brianna, Technician
I am new to the world of optometry, having joined Monocle in August. I was born and raised in New York City but have grown to call North Carolina home! I live with my boyfriend and our two cats and am currently pursuing my master's degree for speech-language pathology. When I'm not testing our patient's vision, you can find me at the newest local vegan spot, or at a concert!