In office exfoliative procedure on the upper and lower lids. This gentle procedure helps remove demodex and bacteria.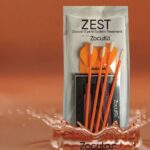 Demodex Brevis: genus of tiny mites that live near the oil glands in hair follicles, feeding on sebum; a greasy substance made by oil glands
Who's It for?
Anyone with itchy eyes, blepharitis, or those who routinely use lash extensions.
What to Expect:
Similar to the dentist; relax while receiving a thorough cleaning of the lid margins and lashes. The ZEST kit is made with micellar okra complex, called Zokrex™. (Created by an ophthalmologist for his own dry eye problems.) It is designed to gently clear oil and debris from the treated area. The treatment requires zero downtime and see immediate results.